SUP School The Netherlands
The fundamentals of our Stand up Paddle lessons are:
We have the latest and best equipment.
Because we teach private lessons, we can adapt the lesson to your needs and level. This allows very fast learning.
Minimum age 10 years
Click the BOOK NOW button and you can check our availability. You can book your lesson online, pay with iDEAL or Credit Card and get your confirmation email within a few minutes! Easy does it!
Single SUP Lesson
As a beginner you will learn (in 90 minutes) how to Stand Up Paddle. Advanced SUPpers will work on advanced technique. We always adjust the level of the lesson to the experience of the students. If you book a lesson for 1 person, you'll have a private lesson. If you want to bring some friends, you have a lesson with those friends. We never put you in a group with 'strangers'. So, you decide what you want! If you want to learn as much as possible you book a lesson for 1 or 2 persons. If you want as much fun as possible you sign up with a bunch of friends.
The price for a 90 minute lesson including a board, paddle and wetsuit + SUP on your own for half an hour after the lesson:
1 person: € 90,00
2 persons: € 61,00 per person
3 persons: € 50,00 per person
4 persons: € 41,00 per person
5 persons of more: € 36,00 per person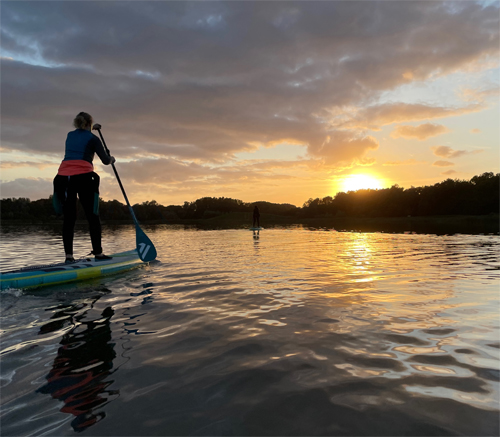 SUP Rental
We have het best Fanatic SUP boards and ION wetsuits. The price is: Whole set (board AND paddle AND wetsuit) € 20,- for 90 minutes. Make sure you contact us 1 day in advance.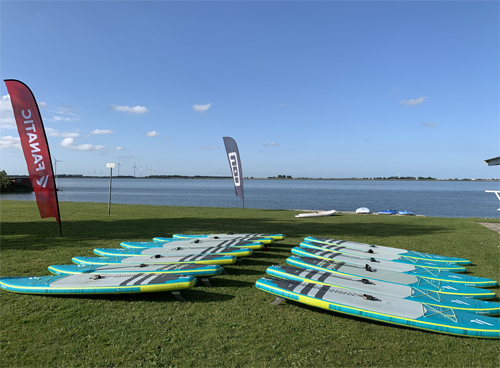 Location Lutjestrand, Amstelmeer
Lutjeweg 2a
1778 LB Westerland
The Netherlands
More info about our location Lutjestrand Amstelmeer.
Google location